Nonclassical present: fieldwave
Spiritland King's Cross, London.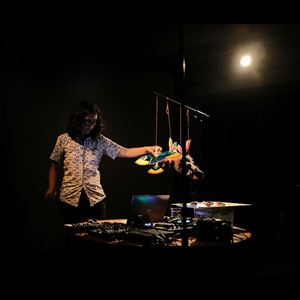 A deep listening event bringing together a new wave of artists with field recording at the heart of their work, coinciding with the release of 'fieldwave' on Nonclassical.
Hosted by fieldwave curator Nick Luscombe with talks and playbacks and featuring Kate Carr, Tuulikki Bartosik, Iain Chambers, Dave Bamford and For Now.
Tickets £10, or £16 with a limited edition fieldwave cassette.
This event is for 18 and over - No refunds will be issued for under 18s.
More information about Nonclassical present: fieldwave tickets
Dave Bamford is a drummer, whose career began with Magoo; lo-fi indie pioneers with whom he recorded several Peel sessions and released two albums on Glasgow label, Chemikal Underground. He currently plays drums with London-based experimental pop band, Cowboy Flying Saucer and improvising percussion and electronics duo, Red Team.
Alongside his vocation as a musician, Dave manipulates sound recordings made opportunistically to explore, among other things, the ways in which nature, natural sound, human activity and human-made sound interact, affect and distort one another, and to interrogate the internal and imagined sounds experienced during periods of mood disturbance, dissociation and insomnia.
Kate Carr has been investigating the intersections between sound, place, and emotionality both as an artist and a curator since 2010. During this time she has ventured from tiny fishing villages in northern Iceland, explored the flooded banks of the Seine in a nuclear power plant town, recorded wildlife in South Africa, and in the wetlands of southern Mexico.
Her work has been featured in The New York Times, The Wire, Pitchfork, Fact Magazine, The Quietus, and The Guardian. It has also been played on the radio on stations ranging from various channels of the BBC, to independent stations in Estonia. Her music can be found on the labels Helen Scarsdale (US), Rivertones (UK), Soft (France) 3Leaves (Hungary) Galaverna (Italy) as well as on her own label Flaming Pines. She has also performed live throughout the UK and Europe.
Iain Chambers is a composer/producer whose work often uses field recordings as musical material. His feature-length symphonies of industrial sounds have been commissioned by BBC Radio 3, Westdeutscher Rundfunk and ABC Australia. In 2019 Iain launched Persistence of Sound, an independent label presenting new musique concrète and field recordings. Iain's 2017 House of Sound project recreated the sound of London since 1400 in an immersive sound array. Iain is a founder member of Langham Research Centre, an electronic music ensemble using obsolete technology to create new music. LRC perform internationally, releasing "Tape Works (Vol. 1)" on Nonclassical in 2017.
For Now is Jo Morris and Susanna Grant. We met at Manchester University and have been collaborating in one way or another ever since. Jo has made audio for twenty-five years primarily for BBC Radio 4 and World Service. Susanna has been commissioning and curating in the world of recorded sound and collective listening for just as long. Together we create site-specific sound art. We are always curious about exploring the spaces between things and the layers of human experience that co-exist in specific sites, patchworking field recordings, found sound and oral histories. Our work has been award-nominated.
Experimental Estonian accordionist Tuulikki Bartosik is a brilliant and versatile musician and songwriter, whose work combines nature, stories related to life and the warmth of being human. Her innovative, fresh and vivid original creations have been compared to both Eric Satie's neoclassical works and Philip Glass's 70's hypnotic and minimalist music. Using the acoustic free bass accordion and wordless occasional vocals, Tuulikki makes the listener reflect on the deeper layers of life and being. Her new solo album Tempest in a teapot is released in Europe in November 2019. During the concert season 2019-2020 Tuulikki will perform in Estonia, United Kingdom, Finland, Sweden, Denmark, Germany, Austria and Japan.