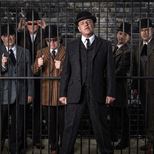 Spiritland Talks: Madness with Miranda Sawyer
Spiritland, London
Doors Open 6:30 PM. Starts 7:00 PM.
Performing: Madness
North London's finest come to Spiritland for a very special one-off night of music and conversation. From their 1979 debut Album 'One Step Beyond' onwards, they dominated the charts throughout the 1980s with a matchless run of immaculate singles, and have constantly kept their music fresh and pioneering to this day.
For this unique evening, the band meet journalist and presenter Miranda Sawyer to discuss life, love, London and the creation of their new album, 'Can't Touch Us Now'. An unmissable night in the intimate setting of Spiritland.