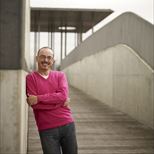 BBC Radio 3 Record Review LIVE at Spiritland
Spiritland, London
Doors Open 8:00 AM. Starts 9:00 AM.
This year Record Store Day, the annual celebration of independent music retailers, falls on Saturday 22 April. 2017 is also the sixtieth birthday year of BBC Radio 3's Record Review.
So on 22 April the programme and presenter Andrew McGregor will be celebrating RSD 2017 by leaving their Broadcasting House studio and decamping to Spiritland, a listening café just north of King's Cross in London.
Popular in Japan and South Korea, listening cafés are venues where listeners can experience recorded music played on state-of-the-art audio equipment – the perfect place to celebrate both the recording industry and Record Review. The programme will feature Building a Library on Mahler's epic 'Resurrection' symphony, as well a round-up of some of the latest releases.
Tickets are free but very limited.